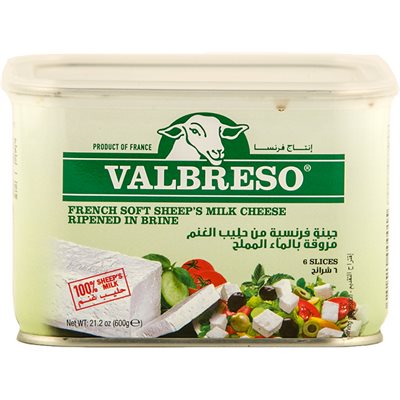 VALBRESO French Sheep Milk Cheese
600g tin
Item #:21103
While Feta is considered the quintessential Greek cheese, there is a long-standing tradition of making this special sheep's milk cheese in France. French sheep milk cheese is brined and aged in the same caves as the famous Roquefort Cheese, yielding a tangy white cheese with a mild Blue Cheese aftertaste. For Valbreso French Sheep Milk Cheese, we use high quality milk from the Lacaune breed of sheep that graze on the lush plateaus surrounding Roquefort-sur-Soulzon. The result is a milder and creamier cheese than a traditional Feta with a subtle tang and saltiness. A wonderful addition to a cheese platter or hors d'oeuvres spread, Valbreso French Sheep Milk Cheese is a perfect ingredient for salads and omelets. For an elegant salad to delight your guests, sprinkle our Valbreso Cheese over arugula, freshly sliced pears, candied walnuts and Kalamata Olives and dress in a balsamic vinegrette. Enjoy our French Sheep Milk Cheese crumbled on flatbread, or on homemade pizza with your favorite toppings. A rich source of probiotics, calcium and protein, French Sheep Milk Cheese is also one of the lowest-fat cheeses.
Item
| | |
| --- | --- |
| UPC: | 3482010000015 |
| Item Package: | 600g tin |
| Item dimensions - LxWxH (inches): | 4.7 x 3.9 x 3.3 |
| Item weight (lbs): | 2.05 |
| Country of Origin: | France |
| Storage: | Keep refrigerated. |
Pasteurized sheep's milk, salt, lactic starters, microbial rennet, calcium chloride.