Home

>

VLAHA Sour Trahana 500g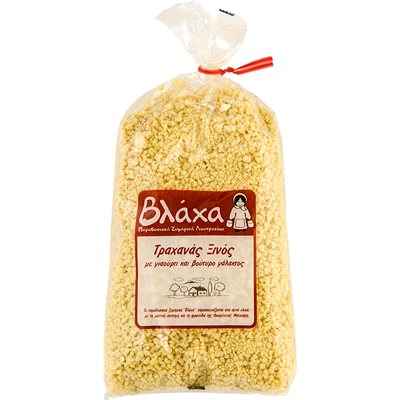 VLAHA Sour Trahana
500g bag
Item #:10204A
If you have family or friends in Greece, you may already be familiar with Trahana, tiny hard dry pasta with a coarse, uneven nugget-like texture used in traditional soups of the same name, porridges, savory pies, stews and more! Some scholars believe that a gruel made with trahana was used to fortify troops in ancient Greece and Rome while others attribute its origins to ancient Persia. Originally used as a means to also preserve milk, sour trahana is made with yogurt. Today, trahana (also known as "tarhana") is a popular culinary ingredient in classic Mediterranean Southeastern European and Middle Eastern cuisine. At Vlaha, we have taken the labor-intensive work out of making homemade trahana for you! Our Sour Trahana is a fermented dough pasta made with Durum wheat semolina, yogurt, butter and salt. To make this special dough, we use the same painstaking techniques that generations of grandmothers have used for millennia! Trahana is typically cooked like pasta, boiled in water, veggie, chicken or beef stock. Sour Trahana is classically served as a porridge or thick winter soup known as "Trahanosoupa," with butter, sautéed onions, fresh lemon juice and tangy Feta. Sour Trahana is also an ingredient in "Kokkinisto Kotopoulo," a classic pan seared and baked chicken dish made olive oil, onion and garlic, wine (optional), tomatoes and bay leaves. Vhala Sour Trahana is a wonderful ingredient for "Kreatopsoupa me Trahana," meat soup and in homemade chicken soup. This special pasta can also be used in traditional Greek stuffed peppers filled with sautéed onion, garlic, grated zucchini and eggplant, tomatoes, fresh basil – and topped with Feta or as a binder for meatballs bathed in tomato sauce.
Item
| | |
| --- | --- |
| UPC: | 5201418000094 |
| Item Package: | 500g bag |
| Item dimensions - LxWxH (inches): | 7 x 4 x 1.1 |
| Item weight (lbs): | 1.1 |
| Country of Origin: | Greece |
| Storage: | Store in a cool, dry place. |


Durum wheat semolina, sour milk, milk butter, salt. May contain traces of egg.