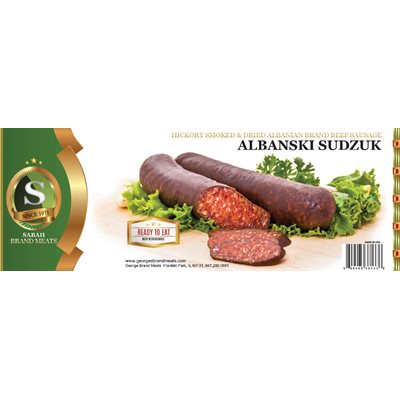 SABAH Beef Smoked Albanian Style Sausage (Albanski Sudzuk)
Approx. 20lb case
Item #:26334
Sudžuk – also known as sucuk or soutzouki – is a popular smoked sausage and culinary staple in the Balkans, Turkey, the Middle East and much of Central Asia. At Sabah, our Albanian Style smoked beef sausage (Albanski Sudžuk) is made with an authentic recipe that may remind you of home! The secret to the mouthwatering goodness of our sausage starts with the high-quality beef and signature spice blend infused into the meat. With a delicate smoky flavor and wonderfully dense, chewy texture, Sabah Beef Smoked Albanian Style Sausage is ready-to-eat once the casing is removed. Enjoy with appetizers or on a meze platter with hard and soft cheeses, hard boiled eggs and your favorite spreads. Slice and use in a sandwich with cornichons and butter or your favorite spreads. Sabah Beef Smoked Albanian Style Sausage achieves new heights of deliciousness when pan seared. Use instead of pepperoni, pancetta, bacon or chorizo to add extra flavor to eggs, soups, stew and chilis. Sauté it with white cabbage, potatoes and beans for a winter dish to warm your senses. Or add it to a pasta dish, like Spaghetti alla Carbonara and you may have a new family favorite!
Item
| | |
| --- | --- |
| Item Package: | Approx. 20lb case |
| Item dimensions - LxWxH (inches): | 0 x 0 x 0 |
| Item weight (lbs): | 0 |
| Country of Origin: | United States |
| Storage: | Keep refrigerated. |
Beef, water, wheat flour, yellow corn flour, rye flour, salt, spices, sugar, brown sugar, propylene glycole, bha, citric acid, sodium nitrite, lactic acid culture, ascorbic acid, stuffed in beef and or collagen casing, hickory smoked, sprayed with a solution of potassium sorbate.