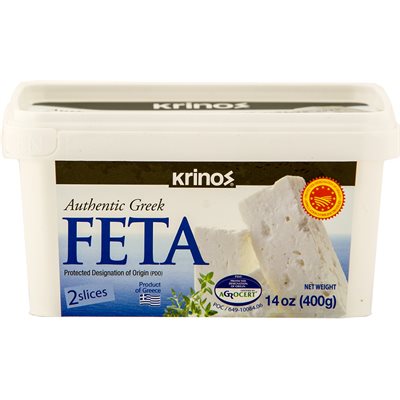 KRINOS Feta Cheese
400g tub
Item #:21206
If you have never tried Bulgarian Feta Cheese, you're in for a treat! A pantry staple throughout the Balkans, this white cheese is made exclusively from sheep's milk and matured in a classic brine. The end result is a firm, crumbly cheese with a distinctly tangy flavor that is a touch saltier than Greek Feta. While this cheese is traditionally used in savory Balkan pastry dishes like Banitsa and is a core ingredient in Shopska, the Bulgarian version of a Greek Salad, it will add cheesy goodness to any recipe! Enjoy Krinos Bulgarian Feta Cheese with oregano and a drizzle of olive oil on a meze platter. Add it to salads, omelets, frittatas and pasta dishes for extra tangy flavor. With a firm and creamy texture, Krinos Bulgarian Feta Cheese is also a wonderful cheese for bruschetta or crostini, topped with roasted red peppers or fresh tomatoes. Use to add tart cheesy contrast to your favorite flatbread or sandwich. Low in fat and rich in probiotics, calcium and protein, this is a cheese you can feel good about eating.
Item
| | |
| --- | --- |
| UPC: | 075013212061 |
| Item Package: | 400g tub |
| Item dimensions - LxWxH (inches): | 5.1 x 3.9 x 2.4 |
| Item weight (lbs): | 1.35 |
| Country of Origin: | Greece |
| Storage: | Keep refrigerated. |




100% pasteurized sheep's milk, salt, cultures, rennet.