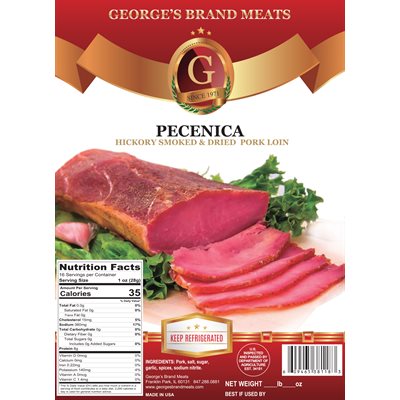 GEORGE'S Dry Pork Loin (Pecenica)
Approx. 20lb case
Item #:26321
We have been creating traditional European and Balkan-style cured meats at George's Brand Meats in Chicago since 1971. If you haven't had the joy of eating dried pork loin, you're in for a gastronomic delight! George's Dry Pork Loin (Pecenica) is made from the highest quality pork loin, with no fatty tissue. This Balkan-inspired delicacy is seasoned with salt, pepper and garlic and then hickory smoked and air dried. The result is a smoked pork loin with a beautiful deep pink interior that is flavorful and delicious. Ready-to-enjoy right out of the package, George's Dry Pork Loin is so delicate and pure that it shines on its own. Slice thin and serve at breakfast or brunch with eggs, cheese and bread. Serve it on a charcuterie or hors d'oeuvres platter with cornichons and grainy French mustard. Enjoy it on an open-faced sandwich with European rye bread, salted butter and cornichons. One taste of our Pecenica will satisfy any meat craving!
Item
| | |
| --- | --- |
| Item Package: | Approx. 20lb case |
| Item dimensions - LxWxH (inches): | 0 x 0 x 0 |
| Item weight (lbs): | 0 |
| Country of Origin: | United States |
| Storage: | Keep refrigerated. |
Pork loin, salt, pepper, garlic, sodium nitrite.