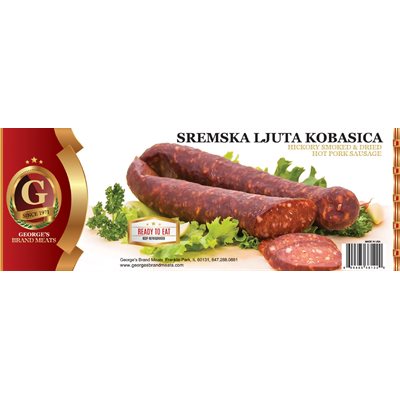 GEORGE'S Hot Pork Dry Sausage (Sremska Ljuta Kobasica)
Approx. 20lb case
Item #:26326
At George's Brand Meats, we have been producing traditional European and Balkan-style cured meats using classic recipes and smoking techniques since 1971. Our Hot Pork Dry Sausage (Sremska Ljuta Kobasica) is made with premium-grade fresh pork smoked to perfection over smoldering hickory wood. "Hot"- but not too hot -our dry sausage gets its spicy kick from the addition of crushed red pepper in the spice blend. A sister sausage to Polish Kielbasa, our Balkan-style pork sausage is inspired by the region it hails from, Srem. Ready-to-enjoy once you remove the casing, George's Hot Pork Dry Sausage is a wonderful snack, sandwich meat and addition to any charcuterie platter. For a simple mouthwatering appetizer, slice and pan sear our Kobasica and serve with grainy mustard or honey mustard. Or pan sauté it with eggs for a vibrant first meal of the day! Sremska Ljuta Kobasica is wonderful with sauerkraut and a side of mashed potatoes. It will impart pepper-forward meaty goodness to soups, stews, bean dishes and casseroles. For a one dish meal to warm your heart, pan sear our Hot Pork Dry Sausage with fried onions, bell peppers and potatoes.
Item
| | |
| --- | --- |
| Item Package: | Approx. 20lb case |
| Item dimensions - LxWxH (inches): | 0 x 0 x 0 |
| Item weight (lbs): | 0 |
| Country of Origin: | United States |
| Storage: | Keep refrigerated. |
Beef, water, binder(wheat flour, yellow corn flour, rye flour), salt, spices, sugar, liquid antioxidant (propylene glycole, bha, citric acid), sodium nitrite, lactic acid culture, stuffed in beef and or collagen casing, hickory smoked, sprayed with a solution of potassium sorbate.