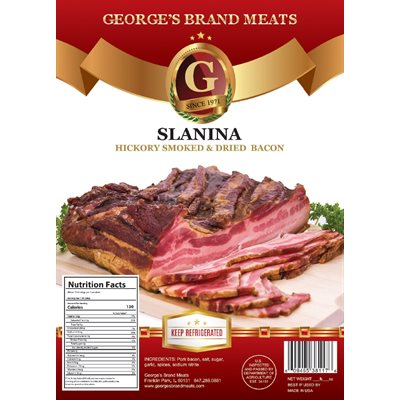 GEORGE'S Smoked Bacon (Slanina)
Approx. 20lb case
Item #:26320
At George's Brand Meats, we have been committed to creating premium traditional European-style cured meats since 1971. Made with top USDA grade pork and a generations-old family recipe, our Smoked and Dried Bacon (Slanina) is hickory smoked and air dried to perfection. Fully cooked and ready-to-eat right out of the package, our bacon is rich in deep, smoky flavor. In Europe, Slanina is classically served at breakfast or brunch: sliced thinly and served with chunks of fresh tomato, dense rye or wheat bread, butter and sometimes cheese. If serving on a charcuterie platter, this bacon is particularly delicious with homemade jam. Pan sear George's Smoked and Dried Bacon for a wonderful BLT or use it to make any grilled cheese sandwich more delectable. If you cut the Slanina into lardons and pan sear them, the culinary uses for this flavorful bacon will become endless! Add to a homemade mac & cheese or a Pasta alla Carbonara. Use as the bacon element in a classic French Frisée Salad, topped with a soft boiled or poached egg. George's Smoked and Dried Bacon will also impart mouthwatering, smoked bacon goodness to creamy pea soups, hearty white bean soups or creamy clam chowders.
Item
| | |
| --- | --- |
| Item Package: | Approx. 20lb case |
| Item dimensions - LxWxH (inches): | 5.6 x 5.1 x 1.6 |
| Item weight (lbs): | 1.2 |
| Country of Origin: | United States |
| Storage: | Keep refrigerated. |
Pork bacon, salt, sugar, spices, sodium nitrite, hickory smoked.