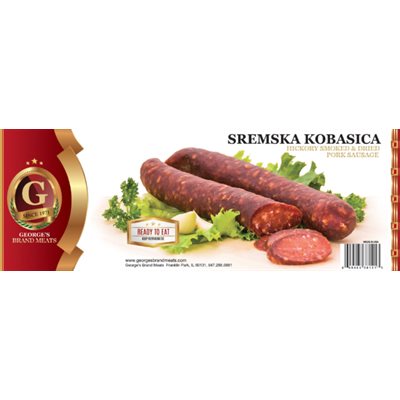 GEORGE'S Smoked Dried Pork Sausage (Sremska Kobasica)
Approx. 20lb case
Item #:26325
At George's Brand Meats, we are dedicated to preserving traditional recipes and smoking techniques to create cured meats like you would find in Europe and in the Balkans. Our Hickory Smoked Dried Pork Sausage (Sremska Kobasica) is made with premium-grade fresh pork seasoned with paprika, crushed black pepper, salt and other spices – and gently smoked over smoldering hickory wood. A sister sausage to Polish Kielbasa, this "must-try" Balkan-style smoked sausage has its origins in the Serbian area of Srem. Ready-to-eat once you remove the casing, George's Hickory Smoked Dried Pork Sausage is a delicious snack and great addition to a charcuterie platter. Enjoy it in an open face sandwich with butter and sliced fresh tomatoes. Slice, pan sear and serve it with grainy French mustard for a mouthwatering appetizer. Serve it with eggs or in an egg scramble, for a hearty and heartwarming first meal of the day! Sremska Kobasica is wonderful grilled and topped with fried onions sauerkraut and a side of mashed potatoes. It will also add smoky pork goodness to soups, stews, bean dishes and casseroles. Pan sear or grill our Hickory Smoked Dried Pork Sausage with fried onions and bell peppers and all of your meat cravings will be satisfied.
Item
| | |
| --- | --- |
| Item Package: | Approx. 20lb case |
| Item dimensions - LxWxH (inches): | 9 x 2.8 x 0.3 |
| Item weight (lbs): | 0.08 |
| Country of Origin: | United States |
| Storage: | Keep refrigerated. |
Pork, water, wheat flour, yellow corn flour, rye flour, salt, spices, sugar, propylene glycole, bha, citric acid, sodium nitrite, lactic acid culture, stuffed in pork and or collagen casing, hickory smoked, sprayed with a solution of potassium sorbate.