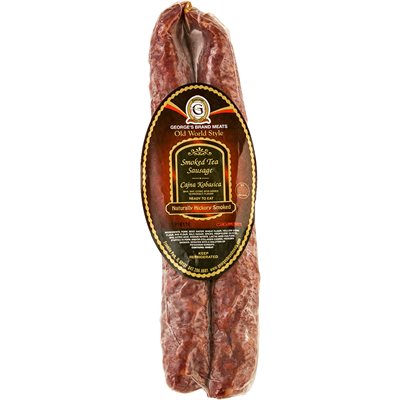 GEORGE'S Smoked Tea Sausage (Cajna Kobasica)
Approx. 20lb case
Item #:26328
At George's Brand Meats, we have been producing premium cured meats with traditional recipes and smoking techniques like you would find in Europe and in the Balkans since 1971. If you love hard dry sausage, you're in for a mouthwatering treat with George's Smoked Tea Sausage (Cajna Kobasica)! Tea Sausage is one of the most popular smoked meats in the former Yugoslavian Republics. It gets its name from the mid-19th century, when it was customary to serve sausages at teatime. Our Cajna Kobasica is made with finely minced pork, beef and traditional Balkan spices. With a delicate mosaic-like interior, our tea sausage is gently smoked and then dried for weeks. The best way to enjoy this unique sausage is removed from the casing and sliced thin. Rich in flavor and with a wonderful chewy texture, this is a sausage you can enjoy at breakfast, lunch, teatime or dinner. Traditionally served with cheese, mayonnaise and pickled veggies, this sausage also pairs beautifully with chutney and fig jam. A natural for any charcuterie or appetizer platter, George's Smoked Tea Sausage is also delicious in sandwiches. Or use it to impart old world flavor to homemade pizza instead of pepperoni.
Item
| | |
| --- | --- |
| Item Package: | Approx. 20lb case |
| Item dimensions - LxWxH (inches): | 0 x 0 x 0 |
| Item weight (lbs): | 0 |
| Country of Origin: | United States |
| Storage: | Keep refrigerated. |
Pork, beef, water, wheat flour, yellow corn flour, rye flour, salt, sugar, spices, propylene glycol, BHA, citric acid, sodium nitrite, lactic acid culture, stuffed in pork and/or collagen casing, hickory smoked, sprayed with a solution of potassium sorbate. Contains wheat.