Home

>

SARADIS Bitter Orange Sweets 1lb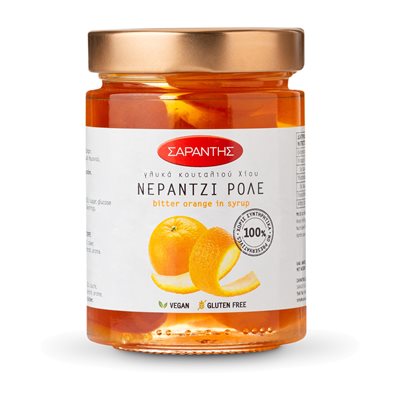 SARADIS Bitter Orange Sweets
1lb (453g) jar
Item #:11017
If you are fortunate enough to have family or friends in Greece, you were surely welcomed upon arrival with spoon sweets ("glyko tou koutaliou") ¬ citrus peels, whole fruits, or nuts preserved in translucent sugar syrup. A mainstay of Greek, Turkish, Balkan and Russian culture for centuries, spoon sweets are traditionally offered to visitors as a sign of warmth and hospitality - served in a generous teaspoon with a glass of water, and sometimes coffee. Or, they are presented as an elegant spoonful in center of small dish of Greek yogurt.  Saradis has been making spoon sweets on the beautiful Greek Island of Chios since 1928. More syrupy than classic marmalade, Saradis Bitter Orange Sweets feature large pieces of succulent orange peel drenched in syrup – just the right size to fill a teaspoon. Chewy and flavorful, our Bitter Orange Sweets are the perfect marriage of bitter and sweet. They are wonderful chilled, right out of the jar, and delicious with scones, biscuits and cornbread. For a citrusy spin on a brunch classic, slice the bitter orange peels and serve with their syrup on French toast, pancakes or waffles – with a dollop of mascarpone or whipped ricotta for good measure. Or serve as a condiment with a cheese and salami platter. Spread Saradis Bitter Orange Sweets in the center of a baked brie – or in a pan sauce for roasted duck–  and your family and friends will thank you!
Item
| | |
| --- | --- |
| UPC: | 075013168009 |
| Item Package: | 1lb (453g) jar |
| Item dimensions - LxWxH (inches): | 3.6 x 3.6 x 3.2 |
| Item weight (lbs): | 1.7 |
| Country of Origin: | Greece |
| Storage: | Store in a cool, dry place. |

Bitter orange peel, sugar, glucose syrup, water, acidity regulator: citric acid, preservative: potassium sorbate, artificial flavorings.