Home

>

SARADIS Fig Sweets 1lb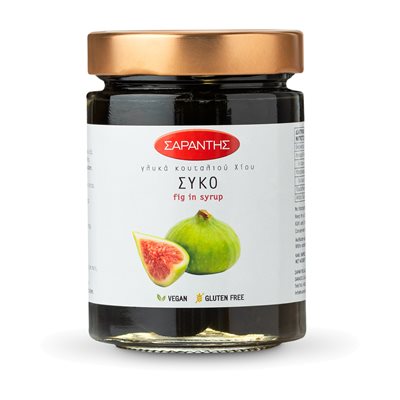 SARADIS Fig Sweets
1lb (453g) jar
Item #:11003
If you've spent any time with family or friends in Greece, spoon sweets – whole fruits, nuts or citrus peels drenched in sugary syrup – will need no introduction! These unique sweets have been a mainstay of Greek, Turkish, Balkan and Russian culture for centuires - offered to visiting guests as a sign of hospitality and warmth. Traditionally served in a generous teaspoon, spoon sweets are meant to be savored between sips of water or coffee. Or to be enjoyed as an elegant centerpiece on a small dish of Greek yogurt. Saradis, has been making spoon sweets on the beautiful Greek Island of Chios since 1928. Our Fig Sweets feature luscious hand-picked whole figs suspended in a sugar syrup. Because our Fig Sweets feature the whole fruit, you will find that they retain their authentic flavor. Soft and succulent, our figs are the "perfect bite" on a teaspoon. Cut them into smaller pieces and serve with their syrup and their culinary uses will be manifest! Use Saradis Fig Sweets as a topping for vanilla ice cream or tart vanilla frozen yogurt and you will be in fig heaven! Serve as a condiment with a cheese platter with Marcona almonds. Add Saradis Fig Sweets to roasted brussels sprouts or butternut squash. Or use them to make a delectable pan sauce for duck, pork or chicken. Once you taste of these uniquely flavorful fig sweets, and they may become a family tradition for you, too! 
Item
| | |
| --- | --- |
| UPC: | 075013162052 |
| Item Package: | 1lb (453g) jar |
| Item dimensions - LxWxH (inches): | 3.6 x 3.6 x 3.2 |
| Item weight (lbs): | 1.7 |
| Country of Origin: | Greece |
| Storage: | Store in a cool, dry place. |

Fig, sugar, glucose syrup.