Home

>

SARADIS Grape Sweets 1lb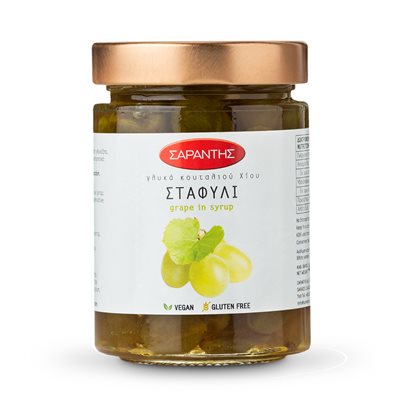 SARADIS Grape Sweets
1lb (453g) jar
Item #:11004
If you have family or friends in Greece, you may already know the distinctive flavor of "spoon sweets" – whole fruits, citrus rinds or nuts drenched in translucent sugary syrup. These unique sweets have been a mainstay of Greek, Turkish, Balkan and Russian culture for centuries – offered to visiting guests as a sign of warmth and hospitality. Traditionally served in a generous teaspoon, spoon sweets are meant to be savored between sips of water, and sometimes coffee. Or to be enjoyed as an elegant centerpiece on a small dish of Greek yogurt. Saradis, has been making spoon sweets on the beautiful Greek Island of Chios since 1928. Our Grape Sweets feature plump hand-picked grapes suspended in a thick, naturally grape-flavored sugar syrup. Succulent and chewy, more like raisins after marinating, Saradis Grape Sweets are first meant to be enjoyed in a teaspoon. Less sweet, and with more authentic flavor than traditional jam or preserves, our luscious Grape Sweets are delicious with peanut or almond butter. Swirl them into a bowl of creamy tahini (sesame paste) and dip pieces of crusty bread or toast into the mixture, for a healthier version of a PB&J! Serve a spoonful of our grape sweets with your morning oatmeal or porridge. Or use them in a glaze for roasted chicken or ham. You will find spoon sweets (Glyka tou Koutaliou, in Greek) in almost every household in Greece.
Item
| | |
| --- | --- |
| UPC: | 075013163059 |
| Item Package: | 1lb (453g) jar |
| Item dimensions - LxWxH (inches): | 3.6 x 3.6 x 3.2 |
| Item weight (lbs): | 1.7 |
| Country of Origin: | Greece |
| Storage: | Store in a cool, dry place. |

Grape 60%, sugar, glucose syrup, citric acid, preservative: potassium sorbate, artificially flavored.